Jodi Benson: Born October 10, 1961
Jodi Benson, the voice of Ariel on one of Disney's most acclaimed animations turns 49 this year.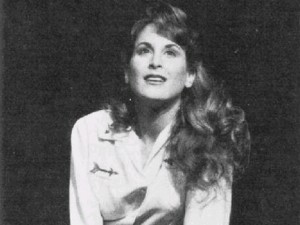 LWT mini biography
Jodi Benson (born October 10, 1961)  is best known for providing the speaking as well as the singing voice of Disney's Princess Ariel in The Little Mermaid which she represed In 2002 and 2006.
Benson was born Jodi Marie Marzorati in Rockford, Illinois.  She became well-known after providing the voice of Ariel in The Little Mermaid. Jodi has remained busy over the years providing voice-overs in video games along with a continual flow of projects from Disney including the role of "barbie" in the toy story franchise.     Benson took a major role on  the 1998 VHS edition of The Little Mermaid,  appearing  as herself during the introduction  and before and after the previews, telling two CGI fish named Gil and Phil about upcoming releases and finishes the movie with a music video of her singing one of the title songs.     In 1992, Benson received a Tony Award nomination for Best Actress in a Musical for her role as Polly Baker in Crazy For You. She played the narrator in Joseph And The Amazing Technicolor Dreamcoat in 1998.
Filmography
Movies and TV
1984 Nausicaä of the Valley of the Wind (voice) – Lastelle's Mother (2004 Disney Dub)
1989 The Little Mermaid (voice) – Princess Ariel, "Vanessa"
1991 Pirates of Dark Water TV Series (voice) – Tula
1991 Disney Sing Along Songs: Under the Sea (voice, archive footage) – Ariel
1992 P. J. Sparkles (voice) – P. J. (1988 Mattel)
1992 The Little Mermaid TV Series (voice) – Ariel
1994 Disney Sing Along Songs: Circle of Life (voice, archive footage) – Ariel
1994 Thumbelina (voice) – Thumbelina
1996 Disney Sing Along Songs: Friend Like Me (voice, archive footage) – Ariel
1996 Guideposts Junction, a six-part Christian video series for children – Herself
1997 Flubber (voice) – Weebo
1997 A Christmas Carol (voice) – Belle
1998 The Mighty Kong (voice) – Ann Darrow
1998 Hercules TV Series (voice) – Helen of Troy
1999 Toy Story 2 (voice) – Tour Guide Barbie/Barbie on Backpack
1999 Hercules: Zero to Hero (voice) – Helen of Troy
2000 The Little Mermaid II: Return to the Sea (voice) – Princess Ariel
2000 Joseph: King of Dreams (voice) – Asenath
2001 House of Mouse TV Series (voice) – Ariel/Belle
2001 Lady and the Tramp II: Scamp's Adventure (voice) – Lady (Segment "Pidge")
2001 Mickey's Magical Christmas: Snowed In at the House of Mouse (voice) – Princess Ariel
2001 Balto II: Wolf Quest (voice) – Jenna
2001 The Grim Adventures of Billy and Mandy – The Blue Fairy
2002 Rapsittie Street Kids: Believe in Santa (voice) – Lenee
2003 101 Dalmatians II: Patch's London Adventure (voice) – Anita
2003 K10C: Kids' Ten Commandments (voice) – Leila and Martha
2003 Mickey's PhilharMagic (voice) (uncredited) – Ariel
2004 Balto III: Wings of Change (voice) – Jenna
2005 Camp Lazlo (voice) – Patsy Smiles, Ms. Jane Doe, Almondine
2007 The Save-Ums (voice) – Cloe
2007 Enchanted – Sam
2008 The Little Mermaid: Ariel's Beginning (voice) – Princess Ariel
2010 Toy Story 3 (voice) – Barbie
Other
1998 A Bug's Life (video game) – Atta
2000 Grandia II (video game) – Millenia/Reena
2002 Kingdom Hearts (video game) – Princess Ariel (English version)
2005 Kingdom Hearts II (video game) – Princess Ariel (English version)