J.R.R. Tolkein: Born January 3, (1892-1973)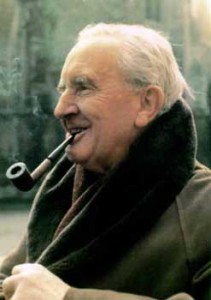 John Ronald Reuel Tolkien was born in Bloemfontein in the Orange Free State, now South Africa, to Arthur and Mabel Tolkien. The Tolkiens were English by nationality but had recently moved to the region as Arthur, a bank employee, pursued a lucrative career opportunity. In any event, the African climate was hard on Mabel Tolkien, and so she moved back to England with young John (now four) and younger brother Hilary in tow. Arthur was to follow, but he died suddenly of a brain hemorrhage and never joined them. After living in Birmingham for a time, with Mabel's parents, the trio moved out into the West Midlands countryside, to Sarehole. It was that idyllic rural setting, located just south of the very much urban Birmingham, that would inspire the pastoral settings in later work. Without the income previously provided by Arthur the family struggled financially. But Mabel still managed to devote considerable time to the boys' tutelage, and in consequence young John was able to read by the age of four. By the time he entered school he could already write fluently and was soon learning the rudiments of Latin. He would eventually begin inventing his own languages, a fascination that would later birth the elvish and dwarvish tongues of Middle Earth.
Unfortunately the little family was soon dealt another blow. Mabel, who had been diagnosed with diabetes (then incurable), died in 1904. The development rendered the two young Tolkien brothers both orphaned and destitute. Yet although such family as remained to them was of minimal comfort and support, they were supported and guided by the local priest, Father Francis Xavier Morgan, who took it upon himself to oversee their affairs. (Mabel had converted to Catholicism in 1900.) Thanks to Morgan the boys' schooling continued, at King Edward's School in Birmingham, and it was not long before the linguistically fascinated J.R.R. had mastered Latin and Greek, and was gaining competency in a number of other languages as well. Morgan's influence was to leave a lasting mark on Tolkien, so much so that in later years his own devotion would help him convert friend and fellow author C. S. Lewis to Christianity. Eventually Tolkien was able to attend Exeter College, Oxford (1911-15), studying the classics as wells as languages: Old English, various Germanic languages (including Gothic), Finnish, and Welsh. He earned the first class degree.
Author of books:
The Hobbit: or There and Back Again (1937)
Farmer Giles of Ham (1949)
The Fellowship of the Ring (1954.)
The Two Towers (1954)
The Return of the King (1955.)
The Adventures of Tom Bombadil and Other Verses from the Red Book (1962)
Tree and Leaf (1964)
The Tolkien Reader (1966)
Smith of Wootton Major (1967)
The Road Goes Ever On: A Song Cycle (1967, with Donald Swan)
Bilbo's Last Song (1974)
The Silmarillion (1977)