Chuck Conners: Born April 10, 1921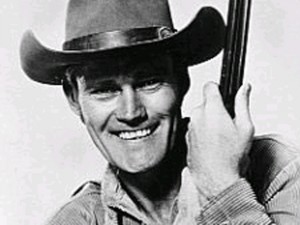 Chuck (Kevin Joseph) Conners  (April 10, 1921 – November 10, 1992).  Known for his role as Lucas McCain on the popular "The Rifleman" TV show, which became a staple on afternoon re-runs through out the 1960's and 1970s.   For many it may be his starring role in Old Yeller that is most remembered.
Interesting  Facts:
He is one of only 12 athletes in the history of American professional sports to have played for both major league baseball and in the NBA, add to this that he was drafted by the Chicago Bears and one realizes Chuck was a gifted athlete at at 6′-5″ tall.  Chuck  is also credited as the first professional basketball player to break a backboard.   During warm-ups in the first-ever Boston Celtics game on November 5, 1946,  Connors took a shot which caught the front of the rim and shattered a new glass backboard.
Chuck Conners Sports Gallery